Chinese Combat Robot in Active Development
Submitted by tatwood on Thu, 07/30/2020 - 15:52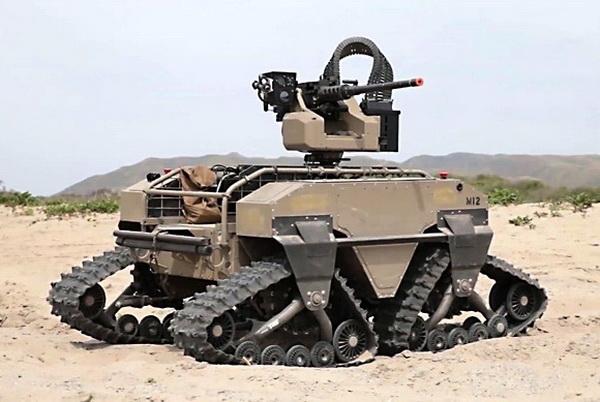 According to MilitaryAerospace.com, "…People's Online Daily reports that the thigh-high armed robot looks like a small assault vehicle. Target practice results showed the robot has acceptable accuracy. The report stresses that humans will control the robots, it is unclear if the robots merely are remote controlled or if they operate with some measure of autonomy. As a small tracked vehicle, the robot is built to traverse rugged or uneven terrain and operate as a forward-positioned weapons node for ground attacks."  Lead photo courtesy of MilitaryAerospace.com, via the Unmanned System News (USN). 
For a global overview of military and commercial UGVs, please see NREF's exclusive January 5, 2020 report: "Unmanned Ground Vehicles Update—Latest UGVs" 
Thanks to CDR David Place (USN/Ret), davidplace47[at]gmail[dot]com, and Robin E. Alexander, President ATC, alexander technical[at]gmail[dot]com, for their assistance with this report, the background for which appeared in their  # 20 - 15 - 24 JULY 2020 edition of the UNMANNED SYSTEMS NEWS (USN).
David distributes the Unmanned Systems News (USN), a free, comprehensive newsletter in PDF format every week or two, as well as serial news flashes, from which this NREF news update was sourced. To be included in his distribution, simply send David a subscribe request to davidplace47[at]gmail[dot]com.