c-Link Systems to Unveil RanchVac at Xponential 2017
Submitted by tatwood on Mon, 01/30/2017 - 13:57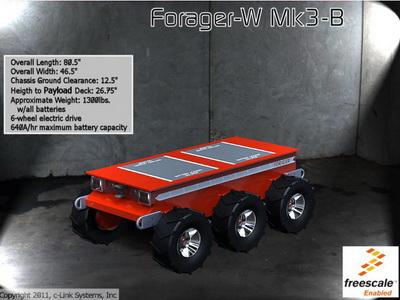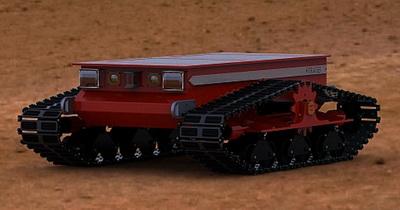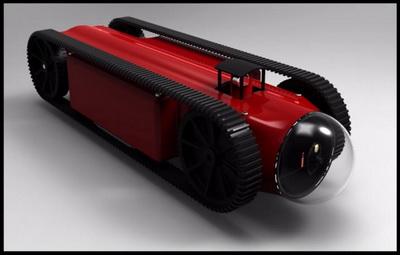 As noted at www.c-linksystems.com, the Forager-W (for wheeled) is an Omni-chassis in a family of autonomous robotic vehicles (ARV) from c-Link Systems, Inc. The Omni-chassis creates the ability to build upon a unified drive chassis enhancing the creation of different end-usage systems.  The Forager-W Omni-chassis contains a locomotion system, a power plant and all the control electronics. The chassis itself is constructed of aluminum with all-welded seams thus the finished chassis is IP64 rated.
Locomotion is achieved through a 6-wheeled system that is electrically driven.  Tires are aggressive or the turf saving type; tires are dependent on intended usage. Steering is accomplished through the  use of the industry standard "skid-steer."
The main power plant is a 160Ah / 640Ah battery system.  The 80Ah system currently is shipping and is comprised of SLA batteries.  The 640Ah is an optional system due to the cost of LiPo batteries. Both systems are comprised in banks, allowing change-out, and contain monitoring/charging circuits. The monitoring/charging modules communicate with the core processor to relay information to the operator.
Electronics system comprises a multiprocessor core block, locomotion system controller, inertial navigation system, payload control system/interface and communications.  The system resides in a water-tight case (IP68) that can be removed in the field.  Power distribution/charging/monitoring are contained in a second case similar to that of the main electronics.  The systems are based on Freescale Semiconductor's Tower System. 
And don't miss c-Link's diminutive Volebot, for search & rescue at disaster sites.