Home
Latest Robotics News
---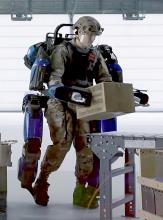 08/05/2020
The Guardian XO industrial exoskeleton augments operator strength without restricting freedom of movement. It is designed to boost productivity while dramatically reducing injuries. Industries it is suited for include Industrial Manufacturing, Oil & Gas, Maritime, Construction, Automotive, Military & Defense, Distribution & Warehouse logistics, and Aviation & Aerospace. SARCOS was recently awarded a contract by the U.S. Marine Corps Logistics Innovation Office program for the delivery of an Alpha version of the Guardian® XO® full-body, powered industrial exoskeleton robot. Delivery of the Guardian XO Alpha unit to the U.S. Marines is scheduled by the end of 2020.
Read Full Story
---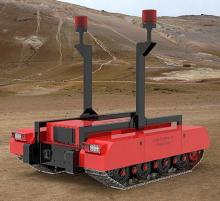 08/03/2020
Corporate Vision (CV) magazine's prestigious Technology Innovator 2020 program recently presented c-Link Systems with the "Most Innovative Autonomous Robotics Company 2020" award for "demonstrated excellence, commitment, and innovation." The innovation award honors c-Link's history of unmanned ground vehicle innovation, most recently represented by the new compact Omni Panzer UGV line.
Read Full Story
---

08/02/2020
The first annual Automated Vehicles Symposium took place July 27-30. It was a robust, full-featured online conference with many sessions and lectures to choose from, as well as online opportunities to network with speakers and fellow attendees. Opening day segments dealt with policy and planning, operations & applications, users & human factors, and technology topics. Virtual video platform access used Vimeo, and Zoom was used for discussion groups in breakout sessions. Event sections included: Keynotes & Plenaries; Breakout Sessions; Poster Sessions; Enterprise Solution Series; Exhibitors + Sponsors; and Networking. The virtual platform hosting the event is available on-demand to attendees for 90 days following the symposium.
Read Full Story
---
---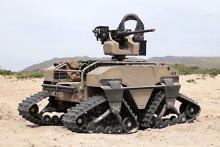 07/30/2020
The Chinese Army is preparing to deploy small tracked unmanned ground vehicles (UGVs) armed with machine guns, night-vision, missile loaders, and cameras to launch attacks while leaving manned systems at relatively safe stand-off distances. U.S. policy requires a human in the loop before a robot can use deadly force, yet we have little or no assurance that potential enemies will follow a similar path.
Read Full Story
---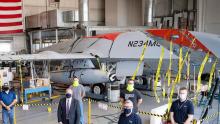 07/28/2020
An update at TheDrive.com shows the first public view of Boeing's MQ-25 Tanker Drone refueling pod on a carrier-based MQ-25 tanker drone test vehicle. The Cobham buddy refueling store is mounted under the drone's left wing. The drone is designed to fly extended maritime surveillance missions. The photo was taken at Boeing's facilities at MidAmerica last week during a visit by Illinois Democrat Senator Tammy Duckworth. The airport is adjacent to Scott Air Force Base in Illinois.
Read Full Story